Mid Norfolk Railway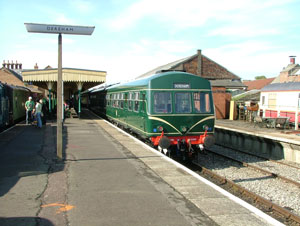 The Mid Norfolk Railway runs for 11 miles through rural Norfolk, along an ex-MOD branch between Dereham and Wymondham, the latter still retaining its operational mainline connection. The railway has ambitious plans to extend northwards as far as Fakenham. Four miles of track and one mile of trackbed exist in their ownership, with County School, a restored station currently marooned from the rest of the railway, at their northern extremity. The railway are currently upgrading the first part of this extension, as well as improving their current running line with more signalling and other works.
Although not exclusively a diesel railway, the majority of services are run by DMUs, with occasional diesel hauled running and steam services in the summer months usually at weekends.
Initially, Railcar Enterprises were based on the line, along with their impressive fleet. However, following the relocation to the Ecclesbourne Valley Railway, the railway has used its own 101 set, supplemented by a second (3-car) set which belonged to the late Matthew Smith, a leader in Metro Cammell preservation.