Ecclesbourne Valley Railway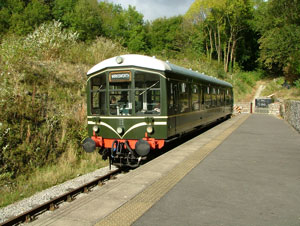 The Ecclesbourne Valley Railway is one of preservation's newer lines, but has certainly proved its worth over the past 10 years. DMUs have been a part of the story since 2003 when part of the Mid Norfolk's fleet was relocated here. Since then the operational fleet has grown to become one of the most impressive DMU fleets in the UK, with four sets normally in traffic, and a diverse range of classes.
The line is heavily relient on the railcar fleet which currently operates most of the passenger services and have done so since the line reopened to passenger traffic.
The railway runs from Wirksworth to Duffield (8 miles) and has four stations. At Duffield there is a cross platform interchange with Network Rail. The line was reopened in full in 2011. There are plans to develop the line further and reopen a passing loop and one more intermediate station along the route.
The Ecclesbourne Valley Railway hosted the Annual Railcar Convention in 2009, with 4 sets in service including Classes 101, 108, 117, 122 and Derby Lightweight. It is also planned to host the convention a second time in 2015.