Peak Rail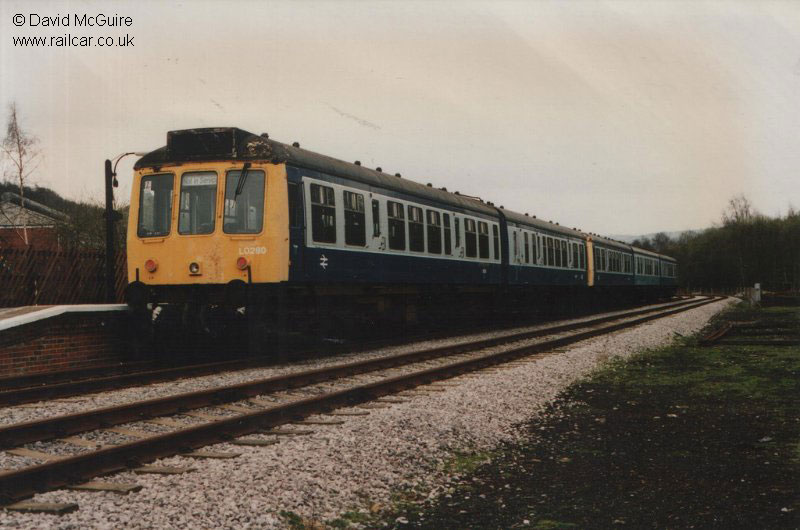 Peak Rail is a four mile, mainly steam locomotive operated line which has its roots in the 1975 Buxton Steam Centre set up by the Peak Railway Preservation Society. The aim of the society has always been to operate the (incredibly scenic) closed line from Buxton to Matlock. However following unsuccessful attempts to expand from a 300 metre running line, the society controversially moved its headquarters during the 1980's to Darley Dale, close to the Matlock end of the route.
Following the move, train operations progressed more rapidly with services running southwards to just outside Matlock from 1991.
The early to mid 1990's saw the line's first association with DMUs grow. In common with many other railways at the time, significant numbers of Class 108 vehicles were available for preservation relatively cheaply, and represented a good investment for providing off-peak diesel services when steam operation was no viable. Four sets (a 3-car, a 2-car power twin and two 2-car power trailers) were acquired for use, although one of the power trailer sets was quickly put on loan to the Swanage Railway.
In 1997, the line was extended north to Rowsley South (about half a mile from the village. Since that date, significant facilities including locomotive sheds, turntables and several restoration bases have been established.
By the early 2000's, it was apparent that such a large number of DMUs were not required to operate services, and by this time only the 3-car set was in use.
In 2008, the first DMU story ended when the private owner of the Class 108 fleet decided to retire from preservation and sell the collection. The Swanage loan set was sold to the railway (and never returned to Peak Rail); with the other three sets being distributed over several new homes. The railway was then without any resident DMUs.
In 2011, the railway was "completed" in terms of southward expansion with a short extension into Matlock station itself.
In 2012, DMUs returned to the line in the form of a Class 117 2-car set, but it shortly moved on to the East Lancashire Railway after only a two month stay.
In 2013 a new DMU contract restoration business was set up called Grinsty Rail, which involved the regular arrival and departures of DMU vehicles from other railways for restoratiopn and overhaul work. They have sucessfully undertaken a number of contracts involving the following vehicles: Class 101 50321, Class 101 51213, Class 101 51427, Class 108 52064, Class 108 56208, Class 108 59250, Class 117 51354 and Class 117 51396.
The railway has guarded optimism about expansion northwards towards Buxton, with the next target being a short extension back into the village proper at Rowsley. Meanwhile, facilities on the currently operational section continue to be improved.
There are currently no vehicles located at Peak Rail